DakotaSnow
Odawa
I know alot of people claim to
be Cherokee..somewhere in their
background they have a
Cherokee Indian Princess..
I was told all my life
that I was Cherokee
And then just recently I was told No your are Odawa!

This is ok with me...now i know for sure
now I am getting closer to my roots...
I know my heart has always been
Native American..
I do know that I do have
Odawa running thru my veins
and in my Heart!
We are a Proud People!
I am Proud!
I am Odawa!
Please do not judge me by the
color of my skin..
Judge me not by the color
of my hair..
Judge me by what is in my
Heart!
For in my Heart I am one..
One with Nature..
One with Mother Earth..
One with my Spirit Guide..
Wolf.
I am One !
I am Odawa!
I am Proud!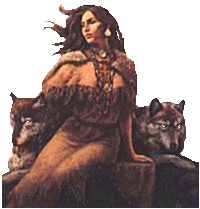 I am Dakotasnow!

I recieved this poem from
someone unknown to me..
He found me thru his Love
for the Wolves..
and asked if I would
Please put it up on a page
so everyone could see his
Love for the Wolf..
He once was unkown to me but now is
A Friend!

Wolf - By Dick Buckingham
It has been said by wiser men
That when the beasts are gone,
The lonliness that's left behind
Will do away with dawn.

Men fear thee Wolf
But I don't ask - I know.
It's not your fierceness felt by them
But the beauty which you sow.

It grows within our hearts and mind
to threaten those of us,
Who cannot seem to find the way
To love, and to be kind.

So if you go forever Wolf,
Please take me with you then.
I need to be with yours and you
and not these selfish men.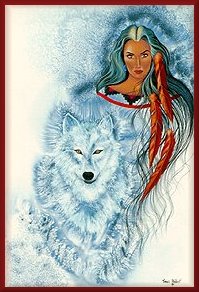 Thank you Dick for the beautiful
poem..it shows your
Love for the Wolf!

Background and pics by
Page designed by
Dakotasnow
Email: bj@torchlake.com
View My Guest Book
Sign My Guestbook